Get Colorful with Tie-Dye T-Shirts...

Looking for something Different... New... Exciting & Unique?
Take a Look at Today's Tie-Dyes... from Subtle, to Vivid, to Retro!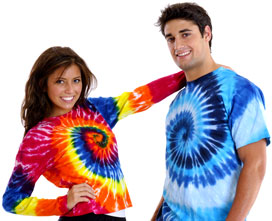 These aren't the tie-dyes from the 60's! Today's tie-dye have a new range of colors and styles that help you make a statement with your entire shirt... not just your design.



Demonstrate School Pride... Company Colors... National Heritage... Cultural Events... Civic & Team Spirit... all with tie-dye shirts that pronounce your message in a rainbow of colors and styles.



Tie-Dyes do cost more than standard, single color T-Shirts... but do so much more. And you can help keep your costs low by choosing an affordable one or two-color design from our design idea galleries.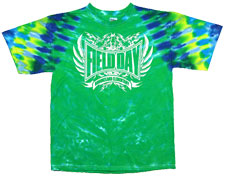 Make Field Day more colorful...
Fit out the entire school with tie-dye shirt that make a statement with your school colors and a one-color design. Many options and styles are available... this is just one example of design FDA-1020 on a Bright Green Body Zig-Zag with Navy, Yellow and Bright Blue Rainbows on the sleeve.



The Shirt provides all the color and the one-color design makes your message statement and keeps down your cost.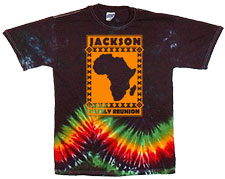 Demonstrate your Heritage and Culture...
Outfit your Family Reunion with more than just your name... say it with the colors of your Heritage and Culture! These great looking shirt make it easy for others to see your pride and spirit... as well as your lineage. Many options and styles are available including colors for a host of national colors... Ireland, Mexico, Spain, Africa and the USA. This is just an example of design FAM-1005 on a Bottom Wave in African colors.



The design is just one-color to keep your cost low.


Summertime Picnics & 4th of July...
Show your USA Spirit at 4th of July Events, Block Parties, Company Picnics and anytime you want to show off the Red, White & Blue. Many other options and styles are available... this is an example of design USA-2002 on a Bottom Wave tie-dye with USA colors.



The Simple two-color design keeps your cost down while the Tie-Dye USA colors make your shirt unique and distinguishable from a very long distance. These also make a great choice for your group when visiting US Landmarks and our Nations Capitol.



Get Pricing information on Tie-Dye Shirts...
Use our online pricing guide to determine your costs. We offer quantity discounts so your prices per garment goes down when you order more.
Click Here to Visit the Pricing Guide




Client Comments...
"Thank you once again! Its always fun and easy to work with you, and we know this T-Shirt will be FAB! Bless You."
Laurie Macafee
Highland Park Presbyterian Church