Selecting Your Screen Printed Art...


Choose your Design... and we'll Customize it for you!
The first step toward getting your Customized Garments is selecting your artwork. Choose from over 3,000+ Sample Designs. We'll make the modifications you request and create your Customized Design. Plus, we can work with your existing design or logo... we'll prepare your existing design or idea for for Printing... all at no charge with your order.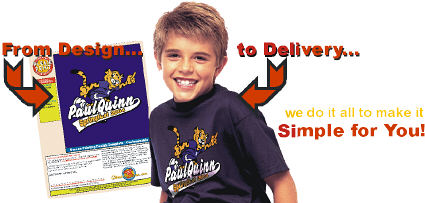 You may select up to 3 different designs to have customized for your online review... all at no charge. (FREE Artwork Terms)
To get started use the fly out navigation to your left...

Or, Request Completely New, Custom Artwork...
We can also work from your sketch, description or camera ready artwork. For more information click here.
◄ Get Started Today... Choose from our Art Samples


Looking for Embroidered Garment Design Ideas... click here




Client Comments...
"Thank you once again! Its always fun and easy to work with you, and we know this T-Shirt will be FAB! Bless You."
Laurie Macafee
Highland Park Presbyterian Church